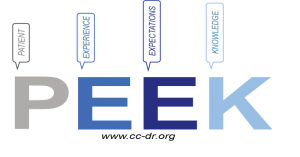 Patient Experience, Expectations and Knowledge (PEEK) is a research program developed by the Centre for Community-Driven Research.  The first tranche commenced in June 2017 and we have since identified 50 disease areas that we aim to conduct studies in over the next five years. In these studies, we give patients the chance to talk about their experience in the health system – what has been helpful and what could have been better – and then ask them what they think should happen in the future to better support patients and their families.
In previous studies that we have done, we've found that the process of reflecting and talking about their experience is therapeutic for patients in itself, and provides them with an important opportunity to have their voice heard.  Read more about PEEK and our focus areas HERE
THE FIRST TRANCHE OF PEEK STUDIES WILL BE PUBLISHED IN 2018 – CLICK HERE
The aim of PEEK is to provide stakeholders with access to a repository of research reports detailing the experience and expectations of patients, as well as access to the underlying raw qualitative and quantitative data. Just as there are biobanks that hold information about individual patient biology, PEEK will provide a 'bank' of data about patient experience, expectations and knowledge, a historical record of how patients experience health systems across the years and the ability to evaluate the impact of new treatments, interventions and clinical protocols.
If you would like to talk about conducting a PEEK study, contact us at administration@cc-dr.org